How to Tie the Rapala Knot

The Rapala Knot is the best one to use for attaching your lure to a nylon monofilament or fluorocarbon leader of less than 50lb breaking strain.

This knot doesn't snug up tight to the lure, but creates a loop which gives the lure freedom to move as its designers intended.
For larger diameter mono, and all multi-strand wire line, you'll need to use a crimped connection.
For a single-strand wire leader, the Haywire Twist is your only option.
However tempting, what you should never do is to use a snap swivel to attach the lure as this may prevent the lure from operating as it was designed to.
Here's how to tie it ...

Stage 1

First, tie an overhand knot and pass the tag end through the lure's attachment eye.

Stage 2
Then, wrap the tag end three times around the standing part of the line before tucking it back through the overhand knot as shown.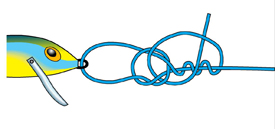 Stage 3

Next, pass the tag end back through the loop you've formed ...

Stage 4

... and finally pull the knot up tight.
---
You are here:~ Saltwater Fishing > Knots > Rapala Knot

---
Jul 19, 17 02:07 PM

Ever wanted a leader wire comparison chart which sets out all the strengths and weaknesses of the various wire line types clearly and objectively? Here is one that does just that

Jul 19, 17 01:22 PM

Fluorocarbon fishing line has some excellent properties. Low uv degradation, high abrasion resistance, low stretch, low absorption. But above all, it's almost invisible in the water

Jul 19, 17 02:52 AM

Centre console, wheelhouse or maybe a high speed inflatable? Inboard or outboard motors? Of all the designs of saltwater fishing boats, how do you find the one that suits your needs best?
---