How to Make the Haywire Twist in Single-Strand Wire

Not a dance style from the early sixties as you may first think, the Haywire Twist is the way to connect single-strand wire leaders to lures, swivels and hooks.
In fact, as far as I'm aware, it's the only way to make connections in this type of line, as you clearly can't use any of the conventional knots and bare wire will slide through a crimp however well you compress it.
It's vital that the twist is carried out in two parts as shown here. The first part is a true twist of each part around the other, followed by a wrap of one part around the other.
Here's how to do make the Haywire Twist ...

Stage 1
First, pass about 4 inches (100mm) of wire through the eye of the hook and carefully fold back so that it crosses the standing part.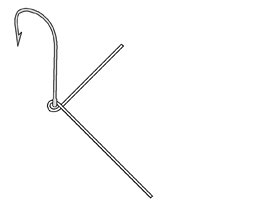 Stage 2
Next, start twisting the wire evenly so each strand turns around the other. The hook can be swiveled 90 degrees to give some leverage.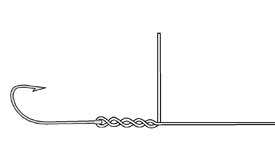 Stage 3
Then, after half a dozen twists, bend the tag end upwards so it's perpendicular to the standing part and ....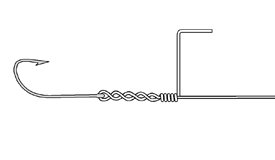 Stage 4
Finally, add half a dozen turns of 'barrel wraps'. Don't snip off the tag end with pliers or it will leave a sharp spur.
Instead, bend the end to form a small crank handle, and then twist it back and forth until it snaps, and you've done it.
Artwork by Andrew Simpson
Mar 08, 21 08:30 AM

A quality reel fitted to a quality rod doesn't necessarily make it a quality outfit. Your fishing rods and reels have to be properly matched if you're to get the best out of them, and here's how

Mar 08, 21 04:51 AM

Which single lure fishing tip applies to trolling, jigging, baitcasting, spinning, fly fishing and any other branch of lure fishing? Well, it is the one at the top of this list

Mar 07, 21 10:20 AM

Essential jig fishing tips to help you select the right lure for successful jig fishing, together with the techniques required to get the most out of your jig fishing outfit
---