How to Tie the Rapala Knot

The Rapala Knot is the best one to use for attaching your lure to a nylon monofilament or fluorocarbon leader of less than 50lb breaking strain.

This knot doesn't snug up tight to the lure, but creates a loop which gives the lure freedom to move as its designers intended.
For larger diameter mono, and all multi-strand wire line, you'll need to use a crimped connection.
For a single-strand wire leader, the Haywire Twist is your only option.
However tempting, what you should never do is to use a snap swivel to attach the lure as this may prevent the lure from operating as it was designed to.
Here's how to tie the Rapala Knot...

Stage 1
First, tie an overhand knot and pass the tag end through the lure's attachment eye.
Stage 2
Then, wrap the tag end three times around the standing part of the line before tucking it back through the overhand knot as shown.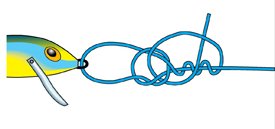 Stage 3
Next, pass the tag end back through the loop you've formed ...

Stage 4
... and finally pull the knot up tight.
---
You are here:~ Saltwater Fishing > Knots > Rapala Knot

---
Jun 17, 19 01:19 PM

The fixed spool design of the saltwater spinning reel means that over-runs just can't happen. As long as line twists are avoided, long hastle-free casting is almost guaranteed

Jun 17, 19 01:05 PM

If they're not going to let you down, your big game fishing reels must be properly designed and engineered, but what are the vital features you need to look for?

Jun 16, 19 09:48 AM

But there are plenty of other proven trolling lures to choose from – diving plugs, surface poppers, soft-plastic lures or spoons for example. Which one would you decide on?
---