How to Tie the Rapala Knot

The Rapala Knot is the best one to use for attaching your lure to a nylon monofilament or fluorocarbon leader of less than 50lb breaking strain.

This knot doesn't snug up tight to the lure, but creates a loop which gives the lure freedom to move as its designers intended.
For larger diameter mono, and all multi-strand wire line, you'll need to use a crimped connection.
For a single-strand wire leader, the Haywire Twist is your only option.
However tempting, what you should never do is to use a snap swivel to attach the lure as this may prevent the lure from operating as it was designed to.
Here's how to tie the Rapala Knot...

Stage 1
First, tie an overhand knot and pass the tag end through the lure's attachment eye.
Stage 2
Then, wrap the tag end three times around the standing part of the line before tucking it back through the overhand knot as shown.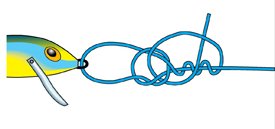 Stage 3
Next, pass the tag end back through the loop you've formed ...

Stage 4
... and finally pull the knot up tight.
Mar 08, 21 08:30 AM

A quality reel fitted to a quality rod doesn't necessarily make it a quality outfit. Your fishing rods and reels have to be properly matched if you're to get the best out of them, and here's how

Mar 08, 21 04:51 AM

Which single lure fishing tip applies to trolling, jigging, baitcasting, spinning, fly fishing and any other branch of lure fishing? Well, it is the one at the top of this list

Mar 07, 21 10:20 AM

Essential jig fishing tips to help you select the right lure for successful jig fishing, together with the techniques required to get the most out of your jig fishing outfit
---