Fishing Boat Motors; 
The Three Main Types

There are several variations of fishing boat motors - outboard motors, inboard installations and stern drives (or outdrives) - but whatever type the propulsion unit, it will be designed to run on either petrol (gasoline) or diesel fuel.
And if you're buying a fishing boat, the type of motor installed will be of particular interest to you.
Some types are more thirsty than others, and in these days of increasing fuel costs, that could be the most important factor.
Others may be reliable plodders, cheaper to run but will take much longer to get out to your fishing marks.
Yet other fishing boat motors may be highly sophisticated turbocharged diesels, requiring expensive professionals to keep them in tip-top order.

We'll take a look at each of the three basic types of fishing boat motors in turn, starting with...


Outboard Motors

The distinctive feature of outboard motors is their 'all-in-one' design, with the power head, gearbox and propeller contained in a single unit. It's almost a case of bolt one to the stern, fuel up and you're ready to go.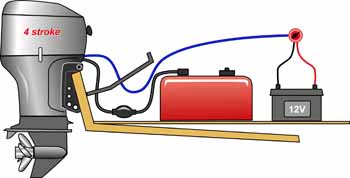 An outboard motor installation
There are a few diesel versions around, which have a reputation for being heavy, noisy and expensive but by far the most are petrol (gasoline) powered, and are either of two-stroke or four-stroke design.
---

2-Stroke or 4-Stroke Fishing Boat Motors?

Older two-stroke petrol powered models require that fuel and oil are pre-mixed (most often in a 100:1 fuel/oil ratio) but modern two-strokes - other than the very smallest - meter the mix accurately from separate tanks. They're conveniently light in weight and relatively powerful but are not wonderful news for the environment.

Which is why, in recent years, new environment regulations in the US have forced manufacturers of two-stroke outboard motors to clean up their act. Gone from their product lines are the old carburetted versions requiring pre-mixed petrol/oil fuel in favour of Direct Fuel Injection. This technology has greatly reduced oil consumption and carbon emissions, while at the same time making a considerable improvement on fuel economy.
Here in Europe our regulators have gone one step further, imposing a blanket ban on the import of all two-stroke outboards, and I understand that the US may well go the same way before too long.
Four-stroke motors generally give even better fuel economy, fewer emissions and are quieter than most 2 stroke motors. But four-stroke motors require a larger number of moving parts than two-strokes, which means that they're considerably heavier and more expensive than a two-stroke motor of equivalent power.
Even so, it very much looks as though if you're buying a new outboard motor for your fishing boat, it will soon have to be a four-stroke.

Engine Size

Something of a choice here - from a simple single-cylinder 2hp to the 350hp, V8 four-stroke monster manufactured by Yamaha!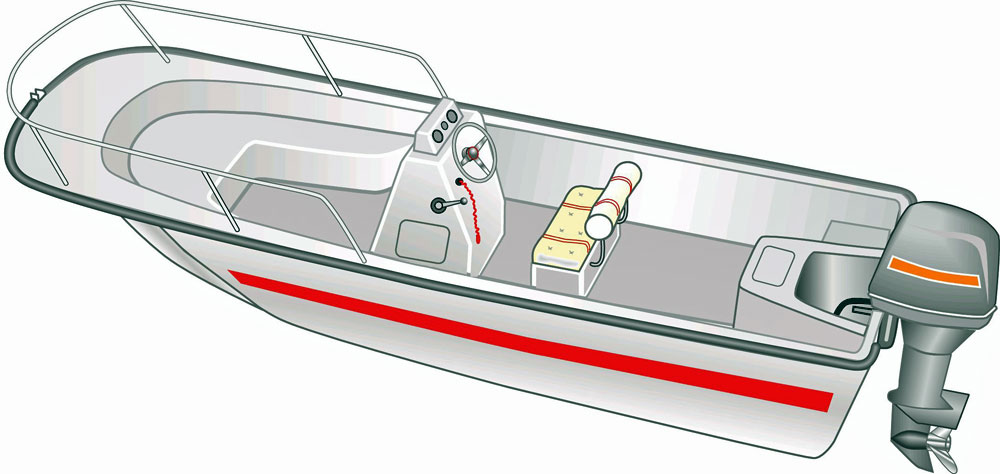 An outboard motor powered fishing dory
For a properly matched outfit engine horse-power and boat size are closely related.
You'll find a plate on modern production fishing boats setting out the upper and lower motor power recommendations - exceed the maximum limit at your peril.
The smallest models, say from 2hp to 9hp have an integral fuel tank and are light enough to be manhandled off the boat for transport in the boot (or trunk) of a car. Forward and reverse gears are operated by a lever on the side of the engine, and steering done by turning the engine with a combined tiller and twist-grip throttle, and engine start will be by a pull-cord.
This arrangement means that the helmsman is seated right aft without any kind of protection, meaning that outboards of this size will only be suitable for saltwater fishing in sheltered waters, such as an estuary or the tidal reaches of a river.
For fishing within a few miles of a safe harbour, it's likely that a suitable fishing boat will need a motor in the mid-power range - say between 25hp and 90hp.
Outboard motors of this size will have a separate battery for starting (charged by an integral alternator), a separate fuel tank and attachments for remote throttle, steering and forward/reverse controls.
For most craft, fishing boat motors of this type have a lot to offer.

More Than One Motor?

If there's room for two motors on the stern, then yes, a twin-engine installation is a good idea. Not just for additional power but for safety, as if one breaks down you won't have to call for assistance.
Even better, provide an entirely separate fuel supply for each engine. A frequent reason for outboard engine failure is contaminated fuel gumming up the injectors, so if it's all coming from one tank it won't be long before the second engine gives up too.
---

Inboard Installations

Here the complete installation is located low in the fishing boat's hull, with just the prop and a short section of shaft protruding from it.

An inboard motor installation
Usually found in heavier displacement craft, the low centre of gravity of this type of engine installation adds to the vessel's inherent stability.
Its simplicity and ease of access makes routine maintenance and most repairs a straightforward affair.
Fishing boat motors of this type will usually be marine diesel engines, which from a safety viewpoint in particular are a much better bet than a marinised petrol (gasoline) automobile engine.
As you can see from the sketch, you now need a rudder.
---

Sterndrive Installations

Also known as outdrives or inboard/outboard installations, these are a hybrid installation. The 'bottom-end' (more accurately, the drive leg) of an outboard is coupled with an inboard marine diesel engine.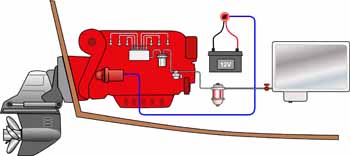 sterndrive installation
As with an outboard, steering is done by turning the whole driveleg through cables or a hydraulically operated system - no rudder required.
The power of these installations can be prodigious - 400hp and beyond - and twin-engine installations are often seen.
So these are the three main types of saltwater fishing boat motors, from a miserly single cylinder 2hp outboard to a fuel guzzling, high speed multi-cylinder sterndrive installation.
Artwork by Andrew Simpson
---
Mar 08, 21 08:30 AM

A quality reel fitted to a quality rod doesn't necessarily make it a quality outfit. Your fishing rods and reels have to be properly matched if you're to get the best out of them, and here's how

Mar 08, 21 04:51 AM

Which single lure fishing tip applies to trolling, jigging, baitcasting, spinning, fly fishing and any other branch of lure fishing? Well, it is the one at the top of this list

Mar 07, 21 10:20 AM

Essential jig fishing tips to help you select the right lure for successful jig fishing, together with the techniques required to get the most out of your jig fishing outfit
---