Traditional, Spinning or
Side-Cast Surf Casting Reels?

Surf casting reels have to operate in a particularly harsh environment - saltwater spray and fine, wind-blown sand. If they're to survive this corrosion and abrasion treatment for very long, then quality of construction is clearly a key requirement.

Cheap surf casting reels won't be built with the fine tolerances and corrosion resistant surfaces to protect them from the elements, so it really is a bad mistake to buy on price alone.
Whichever is your preferred type of surfcasting reel, it's the most mechanically complex piece of kit in your tackle box, so it must be chosen and looked after with good care.
And just what is your favoured reel type for reel for surfcasting? The baitcaster reel, spinning reel or drum-type side-cast reel?
Let's take a look at each of these three reel types in turn...


Baitcaster Reels for Surfcasting

For the absolute maximum in casting distance, there's nothing to beat a baitcaster (aka multiplier or traditional reel) in expert hands. But note the words in italics, because these surf fishing reels do take some mastering.
The Daiwa Coastal TWS Casting Reel
Admittedly, high quality modern versions are much more forgiving than those of a few years ago.
My advice is to avoid the cheapest models, particularly those that don't have magnetic or fiber brakes, as they're bound to disappoint in terms of longevity, reliability and performance.
Particularly in novice hands, more time will be spend unravelling some spectacular birds-nests than will be spent fishing.
---

Level-wind Mechanisms on Surf Casting Reels
These can be something of a double-edged sword. This mechanism traverses back and forth across the spool both during the cast and on the retrieve distributing the line evenly as it does so.
And the benefit?
Well, you don't have to do the job manually with your thumb on the retrieve. But this isn't a difficult skill to master anyway, so for me anyway, the value of a level-wind system is questionable, as ...
it cuts down your casting distance, and
it's something else to go wrong, and
it adds to the cost of the reel, and
when you do get a backlash and the inevitable birds-nest, it will be much more time consuming to clear.
Your choice though ...

Can You Use Braid Line on Baitcaster Reels?

Well yes you can, but not without some inconvenience. The problem is that the incoming line can (and most likely will) bed down between the underlying coils on the spool and stick there during the next cast - with predictable results.
One school of thought suggests that to avoid this happening you should make sure the line is wound onto the spool under high tension and another says in complete contradiction that looser is best.

But the benefits of using braid lines for surf fishing are worth repeating here...
Its small diameter means you can get more line on your reel;
Its small diameter creates less air resistance and lets you cast further;
It has zero stretch, which means you get better bite indication at the rod tip;
It's much tougher than mono, and will last a lot longer;
Braided lines have no reel memory whatsoever, and fly cleanly off the reel.
For me, a fairly compelling argument for braid line, but not on baitcaster reels for surfcasting. My advice would be to go for high quality nylon monofilament line if you choose to use a baitcaster.

---

Spinning Reels for Surfcasting

If you haven't already guessed, these are my choice of surf casting reels (or fixed-spool reels as we call them in the UK) are now my first choice for surf fishing, although this wasn't previously the case.
The Offshore Angler Breakwater Surf Spinning Reel
They are ideal for use with very low diameter, super-braid lines - largely because of their oscillating line lay mechanism.
Put simply, this is the relative motion of the spool as it moves in and out and the rotation of the bale arm.
In a good quality fixed spool reel, this distributes consecutive layers of line in a criss-cross fashion, thereby preventing any opportunity for the line on one layer to embed itself into the one below.
---

Side Cast Reels for Surfcasting

I've only tried side surf casting reels briefly but I have to say that I was mighty impressed when I did so. These reels are simple, rugged and highly reliable - and capable of casting prodigious distances.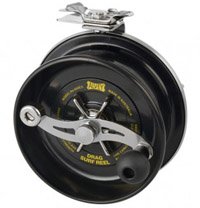 The best of all are those made by Alvey Reels in Australia, where they remain by far the most popular of all surf casting reels.
In fact, Jack Alvey was awarded a gold medal by the International Casting Federation for his record cast of nearly 225 yards with a 2 oz weight with one of these reels.
But don't just take my word for it; have a listen to what their Sales Manager has to say about them...
Mar 08, 21 08:30 AM

A quality reel fitted to a quality rod doesn't necessarily make it a quality outfit. Your fishing rods and reels have to be properly matched if you're to get the best out of them, and here's how

Mar 08, 21 04:51 AM

Which single lure fishing tip applies to trolling, jigging, baitcasting, spinning, fly fishing and any other branch of lure fishing? Well, it is the one at the top of this list

Mar 07, 21 10:20 AM

Essential jig fishing tips to help you select the right lure for successful jig fishing, together with the techniques required to get the most out of your jig fishing outfit
---