Ten Top Surf Fishing Tips
for Shore Anglers!
If you want to know how to surf fish more effectively, then these surf fishing tips will go some way to put you on the road to success.
After all it's tempting when fishing a surf beach for the first time to cast your bait as far as you can and hope for the best. Not a good idea ...
How much better you'd do if you knew what type of seabed you're fishing over, where the fish holding spots are, and what would be the best time to put your bait in front of them.
Read on for the surf fishing tips that answer these questions, and more ...
Surf Fishing Tip No1 ~ The Low-Water Survey
The first of these surf fishing tips requires that you take a walk along the beach at low tide, preferably a low-water spring tide. Think like a crime scene investigator, and ...
Make a note of where the gullies, hollows and banks are.


Does the nature of the seabed change at all? Sand, shingle, mud ...?


Any sign of shellfish beds? Cockles, razorfish, mussels etc?


Any patches of weed and rough ground.


Are there any tackle-robbing (but fish-attracting) obstructions you need to be aware of?


Take this exploration one stage further by casting a bare lead (no hooks) from the low water mark. Bring it in slowly and you'll be able to feel changes in seabed conditions and contours.
This is really valuable data which can make all the difference to your catches. Make notes and sketches in a note book and you'll find yourself referring to it time-and-time again.
Surf Fishing Tip No2 ~ Read the Surf
But nothing stays the same for long. Tides and currents shift sand banks and gullies, storms can destroy shellfish beds and create new seabed features. And at high water, with one patch of surf looking very much like another, and all the evidence covered it's not always easy to relate your notes to what's below the surface.
At first glance, one patch of surf might look very much like another - but does it? Take a closer look ...
It will look 'different' where it swirls around a submerged rock
Short, breaking seas will betray a shallow sand bank, whilst smoother flatter seas indicate the presence of deeper water - a fish-holding gully.
So with the information from you low-tide survey, and the evidence provided by the changes in the surf, you'll have a very good idea as to where to place your bait.
Surf Fishing Tip No3 ~ Watch the Weather
Many surf anglers like to fish in an offshore wind, for the simple reason that it's easier to make longer casts. But an offshore wind calms the sea, particularly so in periods of high atmospheric pressure, which produces clear waters.
In these conditions fish are likely to hang out in deeper water offshore during daylight hours, only becoming brave enough to venture close-in during the hours of darkness.
Strong winds, low atmospheric conditions and big seas are more likely to get results when surf fishing during the daytime.
Surf Fishing Tip No4 ~ Be There at the Right Time
'Time and Tide Waits For No Man' goes the saying, and it's one that's very appropriate for anglers wanting to learn how to surf fish effectively.
On most surf beaches it seems that the fishing is best in the two hours coming up to high water and the two hours following high water - and all the more so if it's a spring tide. But the period of high water itself - when the tide is slack - is often not a prolific period.
For instance, if high tide is at 0900hrs, then probably nothing much will be happening from 0830hrs to 0930hrs. But when the tide is flooding from 0630hrs to 0830hrs is likely to give you the best chance of catching, and again between 0945hrs to 1145hrs when it's ebbing.
Fish nearly always feed better in low light conditions, making dawn and dusk particularly prolific times.
Perhaps the most important of these surf fishing tips is that you ...
Find a day when high water occurs at dusk or dawn and plan your surf fishing trip around that vital piece of data.
Surf Fishing Tip No5 ~ Understand the Tides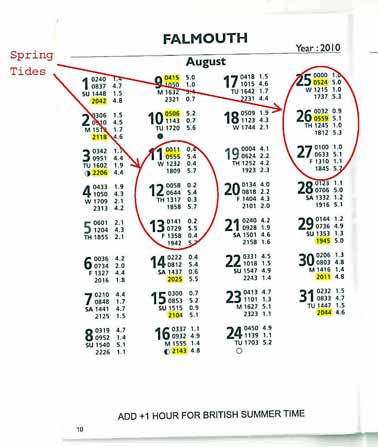 The first two tips have been around tides and time, and the place to get this information from is a set of tide tables, like the example on the right.
The first thing to do is to mark the tides where high water falls around dawn or dusk. Here, I've high-lighted these in yellow.
Next identify the periods of spring tides, as encircled here.
Spring tides occur when the sun, moon and earth are in line, and the sun and moon's gravitational forces work in unison to create the maximum tides on earth. You can see how this works here ...
Spring tides always occur a day or two after a full moon and a new moon, and these are usually shown by a blacked-in circle (for a full moon) and an empty circle (new moon) as shown here on the 10th and 24th August.
If one or more of your dusk/dawn tides falls within a spring tide range, your chances of a good catch are probably at their highest. The early morning high tides on 25th and 26th August look promising ...
Surf Fishing Tip No6 ~ Learn to Tie the Best Shore Rigs
Surf fishing rigs must satisfy three essential requirements:~
be aerodynamic in flight to enable long casting, and


to present the bait on the seabed in a natural appearance, and


to securely mount the bait whilst enabling the hooks to be unobtrusive yet take hold in a fish's mouth.
The aerodynamic requirement means that the basic form of a shore rig is a paternoster - essentially a rig with a lead weight on the end and one or more hooks attached on short snoods above the weight. All the well known shore rigs - flapper rigs, clipped rigs, pulley rigs and wishbone rigs - are derivations of this basic form.
How to tie them? Easy, cheat! Just buy a professionally made one of each type and copy them shamelessly.
Click Here for a Selection of Quality Shore Rigs ...
Now here's the tip ...
When you replicate the shore rig you've purchased as a pattern, don't use nylon monofilament when you tie your own. Use fluorocarbon line - it's virtually invisible under water, much more so than any other type of line. OK, it's not cheap, but you won't need a lot of it and it might just get you the fish of a lifetime.
Surf Fishing Tip No7 ~ Avoid Crack-Offs on the Cast
Shock leaders must be used when surfcasting - without one, a crack-off is far more likely. Of course, crack-offs don't just represent a needless loss of fishing gear, they are also highly dangerous for any other beach user.
| | |
| --- | --- |
| Lead Weight | Leader Strength |
| 6oz | 60lb |
| 8oz | 80lb |
| 4oz | 40lb |