How to Tie the Snood Knot
(or Snell Knot)

The Snood Knot is the one to use for connecting nylon monofilament and fluorocarbon lines to hooks with cranked eyes, where it will hold the hook shank in-line with the hook length rather than allowing it to rotate, as would a Uni-Knot.
Conversely, it shouldn't be used on hooks with straight eyes, as it will hold them off at an angle as shown further down this page - use the Uni-Knot for those.
This knot is also known as the Snell Knot, and hooks tied with it are often referred to as 'snelled hooks'.
Here's how to tie it ...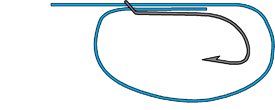 Stage 1

First, pass the line through the hook's eye twice,as shown here. Note the loop hanging under the hook.
Stage 2

Artwork by Andrew Simpson
Then, take the loop and wind it around the hook's shank and both lines. Make 5 or so turns for heavy lines, perhaps 10 for the lightest.
To tighten the knot, grip the turns between thumb and forefinger and pull the line in the direction of the arrow.
And here's what happens if you tie it in a straight-eyed hook - that's the one on the right ...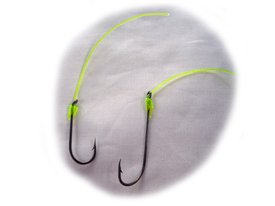 ---
You are Here:~ Saltwater Fishing > Knots > Snood Knot

---
Jul 19, 17 02:07 PM

Ever wanted a leader wire comparison chart which sets out all the strengths and weaknesses of the various wire line types clearly and objectively? Here is one that does just that

Jul 19, 17 01:22 PM

Fluorocarbon fishing line has some excellent properties. Low uv degradation, high abrasion resistance, low stretch, low absorption. But above all, it's almost invisible in the water

Jul 19, 17 02:52 AM

Centre console, wheelhouse or maybe a high speed inflatable? Inboard or outboard motors? Of all the designs of saltwater fishing boats, how do you find the one that suits your needs best?
---