Seamanship for Sea Anglers: A Book for Owners of Small Boats
Andrew Simpson's book Seamanship for Sea Anglers is essential reading for those anglers who choose to go to sea in small boats.
This book isn't about fishing. It's about everything else you need to know if you're to go fishing at sea in a small boat - and return safely.
It's tailored for the particular requirements of boat anglers, whose primary motivation is to get at the fish but who will also benefit enormously from the advice contained with its pages - see below.
By way of clear and lucid text, coupled with full-colour illustrations, this book sets out the essential knowledge in a way that is easy to understand and a delight to read.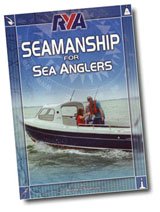 Buy It Here!
As the title declares, this book focuses on the seamanship skills you need when engaged in this popular pastime.
It concentrates on those vital navigational and maritime skills that will keep you safe when you go to sea in small boats.
Chapters include boat handling, ropework, collision avoidance, tides, navigation, heavy weather tactics and much, much more besides.
Easy to follow text, combined with precise illustrations will leave you feeling confident in your boating skills, allowing you time to catch bigger and better fish - and lots more of them!
Not what you're looking for?

Just type 'boat fishing' in this search box and click 'Find Book'!
---
You are here:~ Saltwater Fishing > Fishing Books > Seamanship for Sea Anglers
---
Jul 19, 17 02:07 PM

Ever wanted a leader wire comparison chart which sets out all the strengths and weaknesses of the various wire line types clearly and objectively? Here is one that does just that

Jul 19, 17 01:22 PM

Fluorocarbon fishing line has some excellent properties. Low uv degradation, high abrasion resistance, low stretch, low absorption. But above all, it's almost invisible in the water

Jul 19, 17 02:52 AM

Centre console, wheelhouse or maybe a high speed inflatable? Inboard or outboard motors? Of all the designs of saltwater fishing boats, how do you find the one that suits your needs best?
---