Discover Sea Kayak Fishing with Andy Benham
As Andy says:
"Sea kayak fishing is booming as more and more people take up the sport. A kayak is relatively cheap, completely transportable and provides you with access to deep-water fishing, previously the domain of boat owners or those prepared to go charter fishing."
If the prospect of sea kayak fishing intrigues you as it does me, you could benefit enormously by reading Andy's advice for newcomers to this sport.
After all, not all kayak types are suitable for fishing, so it would be as well to know which makes and models are the best ones to suit your particular needs. And having got your kayak, your're going to need how to fit it out for fishing - what bits to buy and where and how to mount them - before you even think about catching any fish.

And Here's What You'll Find Inside...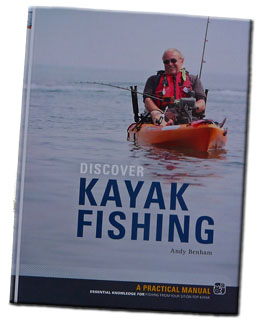 Buy It Here!
Getting Started in Sea Kayak Fishing
Try before you buy
Lifting and moving a kayak
Makes and models
Choosing a paddle
Alternative propulsion
Kayak transport

What to Wear
Wetsuits
Paddle pants and cags
Dry suits
Boots
Gloves

Safety Kit
Personal floatation device
Off the leash
Knives
RNLI advice
Common sense

Fitting Out Your Kayak
Rod rests
Storage crates
Rudders
Hanging out

Kayaking With Confidence
Training ideas
Forward paddling
Self-rescue
Leave the rod at home
Paddle plan
Coastguard communication
Find a fishing buddy

Seamanship For Kayakers
Weather
Tides
Reading charts

Using GPS To Navigate
Standalone GPS
Combined unit
Caution!

See Underwater With A Fish Finder
Standlone or combined?
Fitting a battery
Display unit
Transducer
Fitting the transducer
Care of your fish finder

Handheld VHF Radios At Sea
VHF radio bands
Equipment license
Going digital
Buying a radio
Radio horizon

Fishing Skills

What To Fish For
Mackerel
Bass
Conger
Pollock
Flatfish
Cod
Bream
Sharks

Taking It Further
Look after the planet
Spread the word
Pretty much all you need to know to start out in kayak fishing!
Not what you're looking for?

Just type 'kayak fishing' in this search box and click 'Find Book'!
---
You are here:~ Saltwater Fishing > Fishing Books > Kayak Fishing
---
Dec 20, 17 08:28 AM

If you use trolling lines, then rigging a bird teaser ahead of your lures is probably the simplest and most effective thing you can do to improve your strike rate

Dec 20, 17 08:19 AM

The classic technique for sailboat fishing is trolling a handline astern. But, as many offshore sailors will tell you, its not quite as simple as that. Here are the tips you need to get results

Dec 17, 17 02:47 AM

In 1995, a friend of mine purchased a 43' Beneteau (the Kai Luana) in Honolulu. He asked a couple of friends to help him sail it back to Kwajalein, Marhall
---