A Sea Angling Book You Just Have to Read
I said to my wife "If you're going to the Library, see if you can find me a new book on sea angling".
She came back with this one - 'The River Cottage Sea Fishing Handbook', by the appropriately named Nick Fisher. I flicked through it and immediately knew I had to own a copy.
It's a classic - an absolute gem. Nick writes in a clear and engaging conversational manner, and he knows what he's talking about.
It's the sort of book that you'll pick up and read, not just for the knowledge contained with its pages (although there's loads of that, as you can see from the list of contents below), but for the sheer pleasure to be gained from a well written and nicely illustrated book.
It's a book that will appeal not just to the avid saltwater fisherman, but doubly so to those who like to eat what they catch.
As Nick readily confesses "It's the end game - the cooking and eating of fish - that interests me just as much as the hooking, playing and netting part".

And Here's What You'll Find Inside...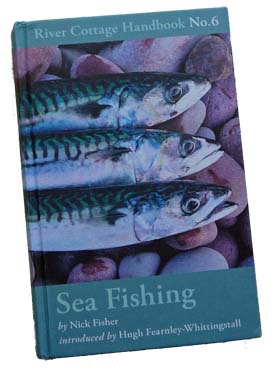 Buy It Here!

When to Go Fishing
Time of the Year
Weather
Tides

Where to Go Fishing
Boat Fishing
Shore Fishing

Fish You Might Catch

Mackerel
Dogfish
Pouting
Pollack
Cod
Whiting
Garfish
Red gurnard
Black bream
Plaice
Sea bass
Dab
Flounder
Horse mackerel
Herring
Squid
Slob trout
Grey mullet

Tackle and Kit
Rods, reel and line
Terminal tackle
Artificial lures

Bait
Squid
Lugworms
Ragworms
Sand eels
Mussels
Mackerel
Peeler crab
Bread

Fishing Skills
Assembling a rig
Tying basic knots
Casting
Striking and playing a fish
Releasing your catch
Killing fish
Bleeding fish
Chilling fish

Fish Preparation Skills
Scaling fish
Gutting a fish
Removing gills
Filleting a fish
Skinning a fish
How to prepare squid

Cooking Fish
Herbs, seasonings and accompinaments
Raw fish
Marinated fish
Fish stock
Barbecued fish
Baked fish
Steaming
Deep-fried fish
Pan-fried fish
Grilled fish
Not what you're looking for?

Just type 'sea fishing' in this search box and click 'Find Book'!
---
You are here:~ Saltwater Fishing > Fishing Books > Sea Angling
---
Dec 20, 17 08:28 AM

If you use trolling lines, then rigging a bird teaser ahead of your lures is probably the simplest and most effective thing you can do to improve your strike rate

Dec 20, 17 08:19 AM

The classic technique for sailboat fishing is trolling a handline astern. But, as many offshore sailors will tell you, its not quite as simple as that. Here are the tips you need to get results

Dec 17, 17 02:47 AM

In 1995, a friend of mine purchased a 43' Beneteau (the Kai Luana) in Honolulu. He asked a couple of friends to help him sail it back to Kwajalein, Marhall
---