Finding Fishing Gifts for Dad
That He''ll Really Like
You'd think that finding fishing gifts for dad would be really easy. But it would be all to easy to buy him something that he'd never use. Remember though, he won't want you to spend a lot of money. Far more important that you've thought about his gift carefully. After all, it's the thought that counts...
Of course, if he's giving you a few helpful hints such as
"What I really need is ...."
then at least you've got something to go on.
But without that, you've got a difficult choice.
On the face of it, fishing lures are very attractive and would seem to be a great choice of fishing gift. But I'm not so sure. If he lost it on the first cast, then both you and he would be very upset.
What you want is something he'll enjoy and find really useful, and be able to do so time and time again. So, as a fishing dad myself, how about these for a few ideas?

Fishing Gifts for Dad ~ Fishing Books
You can't really go wrong by buying him a fishing book, and there're lots to choose from.
Use the search box below to find a fishing book of the type that would interest your dad.
Typing in 'bass fishing' for example, will find a number of books like the one shown here. Or you could try 'surf fishing', 'kayak fishing' or 'trolling' etc, etc.
Click around. Enjoy!
Like to find some other great books on saltwater fishing?
Just type 'saltwater fishing' or 'sea fishing' or 'bass fishing' or other appropriate term in the box and click 'Find Book'
I'm sure you'll find exactly the right book about fishing there, often at a big discount and delivered free wherever in the world you live.
Incidentally, if you find a fishing book described as 'mixed media' it means that it comes with a DVD to further elaborate on the topic of the book. Often, this makes the book/DVD combo particularly good value.

Fishing Gifts for Dad ~ Fish Posters and Pictures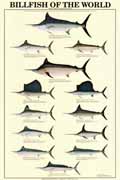 Billfish Identification
Now here's something a little different.
How about a fish recognition poster or a really nice fishing print to hang on the wall?
Much like using the search box for fishing books, just type the search term in the AllPosters box below.
Entering 'fish' would be a good one to start with, as it will bring up some really tasty fish identification charts, like the one shown here.
Entering individual fish names like 'tuna', or 'bass' for example will find you some excellent prints of these fish.
Make sure to enter 'fishing' too, for some terrific action pics. Have fun!
---
You are here:~ Saltwater Fishing > Fishing Equipment Suppliers > Fishing Gifts
---
Dec 20, 17 08:28 AM

If you use trolling lines, then rigging a bird teaser ahead of your lures is probably the simplest and most effective thing you can do to improve your strike rate

Dec 20, 17 08:19 AM

The classic technique for sailboat fishing is trolling a handline astern. But, as many offshore sailors will tell you, its not quite as simple as that. Here are the tips you need to get results

Dec 17, 17 02:47 AM

In 1995, a friend of mine purchased a 43' Beneteau (the Kai Luana) in Honolulu. He asked a couple of friends to help him sail it back to Kwajalein, Marhall
---